In his recent Forrester Report and blog post, The Future of Social Web, Jeremiah Owyang divided the future of the Social Web into five distinct "eras" which will unfold over the next five years.  It is clear the paradigm of how consumers communicate online, both with each other and the organizations and brands they support, is undergoing a major shift.  This breakdown provides not only a great understanding of the common question on where social web is heading, it also makes it clear that the time to add these tool sets into your planning is now.  Understanding and keeping up with this shift is crucial for organizations that don't want to get left behind!
Five Eras
Let's take a look at the Five Eras.  I'm going to borrow this summary from destinationCRM.com :
The era of social relationships: Beginning in the mid-1990s, people signed up for online profiles and connected with their friends to share information.
The era of social functionality:As it exists today, social networking is more than just a platform for "friending," but one that can support a broader array of what Owyang calls "social interactive applications." However, identities are essentially disconnected silos within individual sites.
The era of social colonization:By late 2009, technologies such as OpenID and Facebook Connect will begin to break down the barriers of social networks and allow individuals to integrate their social connections as part of their online experience, blurring the lines between networks and traditional sites.
The era of social context:In 2010, sites will begin to recognize personal identities and social relationships to deliver customized online experiences. Social networks will become the "base of operation for everyone's online experiences."
The era of social commerce: In approximately two years, social networks will be more powerful than corporate Web sites and CRM systems, as individual identities and relationships are built on this platform. Brands will serve community interests and grow based on community advocacy as users continue to drive innovation in this direction.
It is important to note that while their are five distinct eras, they actually overlap on the timeline, all playing out over the next five years (see chart below).  Here in mid-2009 we are well into the Era of Social Functionality and entering the Era of Social Colonization.  This is exciting as we start to see integration opportunities between the multiple online networks we are part of.  You will be able to control your online profile(s) and track your various networks with common tools, merging your networks together from a user experience point of view.  We are quickly reaching the point where social web will be the driving force for online experience, and organizations need to take head.  It is also clear that with this medium fully maturing over the next 3-5 years the time to incorporate the social web into your planning is now.  It can often take three years to launch and build a successful online community to the point of critical mass, and if you don't engage your constituents now, it may be too late in 3-5 years, or at least much more difficult.  The noise might be too loud to get their attention by then.
Shift in Online Experience
The chart below provides a breakdown of how this fundamental shift in the user web experience will play out for consumers, brands, social networks and other media.  For one, social web will begin to dominate the online user experience.  Consumers and supporters will move towards working with peers and within communities to become directly engaged with the brands and organizations they support, while purchasing and donation decisions will be largely driven by peer information, with commerce will take place right in the social online experience.  Consumers, donors and supporters continue to grow their expectations for more and better engagement opportunities with the organizations and brands they support.  Brands will not only provide these opportunities, but continue to derive more information on product development and direction from the social web.  Social Web will also begin to play a major role in the way corporate communications and public relations is delivered.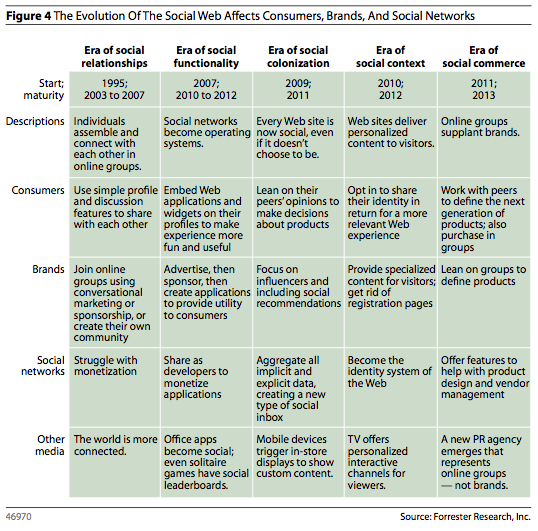 So, where do we go from here?
If you haven't already, now is the time to prepare for the social web and consider how online communities can support your brand or mission.  I'm going to borrow again from destinationCRM.com , because I fully agree with the recommendations they offer:
Don't Hesitate: These changes are coming at a rapid pace, and we're in three of these eras by end of year. Brands should prepare by factoring in these eras into their near term plans. Don't be left behind and let competitors connect with your community before you do.
Prepare For Transparency:  People will be able to surf the web with their friends, as a result you must have a plan.  Prepare for every web page and product to be reviewed by your customers and seen by prospects –even if you choose not to participate.  
Connect with Advocates: Focus on customer advocates, they will sway over prospects, and could defend against detractors. Their opinion is trusted more than yours, and when the power shifts to community, and they start to define what products should be, they become more important than ever.
Evolve your Enterprise Systems: Your enterprise systems will need to connect to the social web. Social networks and their partners are quickly becoming a source of customer information and lead generation beyond your CRM system.  CMS systems will need to inherit social features –pressure your vendors to offer this, or find a community platform.
Shatter your Corporate Website: In the most radical future, content will come to consumers –rather than them chasing it– prepare to fragment your corporate website and let it distribute to the social web. Let the most important information go and spread to communities where they exist; fish where the fish are.
 Quick Video:
Jeremiah published the video on his blog, an interview with him by Blake Cahill from Visible Technologies.  It provides a summary of the five eras in case you don't want to read the above!